Before I get on with my post,
I WOULD LIKE TO CONGRATULATE CRISTIANO RONALDO FOR SCORING A WONDERFUL, BEAUTIFUL, SPELENDID PUNYA PENALTY GOAL AGAINST IRAN YESTERDAY!!!!!
Wah, when he scored I was screaming so loud at the top of my lungs. Imagine -_-"
"GOOOOOOOOOOOOOOOOOOOOOOALLLLLLLLLL!!! YESS! YESSSSSS!!! "
I think my dog also got nightmares -_-
Anyway, on with the 1 Utama outing post..

Look, look! We can have mini talipon if we buy this thing!!! :D



KNIVES! All the better to kill you with!! *Hee hee hee*

After that, off to Giant for some shopping!!

Then when Dad and Wilson were checking out the Coke offers, I walked ahead, looking to my left, and WHAT SHOULD I SEE BUT...



THIS UGLY FART'S FACE ON A BREEZE PACK! Spoil my night nia.



Look at the amount of Milo we bought o_o



Vienetta ice cream sitting atop some yummilicious garlic bread! :)

*watch out for some DEELICIOUS SCANDAL on a Robert Harris worker... right after this. *

Stay tune! :D

*updates*

*Grumbles as the stupid thing doesn't upload again* IS IT LIKE , BLOGGER DOESNT ALLOW MORE THAN 5 PICTURES PER POST, HUH?
I hate you, Blogger. -_-"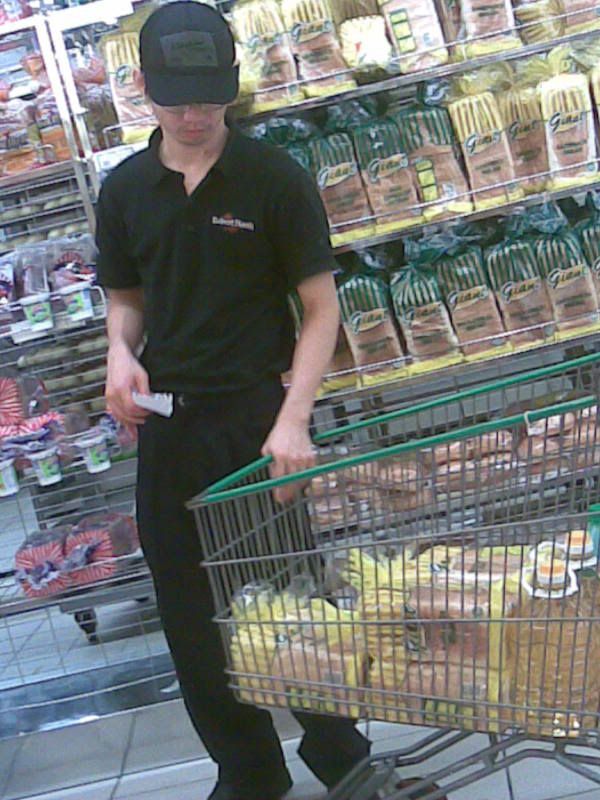 HAH! HE BUYS GIANT BRAND BREAD!!! CHEAPO!! ROBERT HARRIS, YOU KNOW!!!
When he saw me looking at him with disgust, he quickly wheeled his trolley away. If I were him and if I had brains, i'd wear some other shirt and some other cap, not ROBERT HARRIS mia cap.. -_-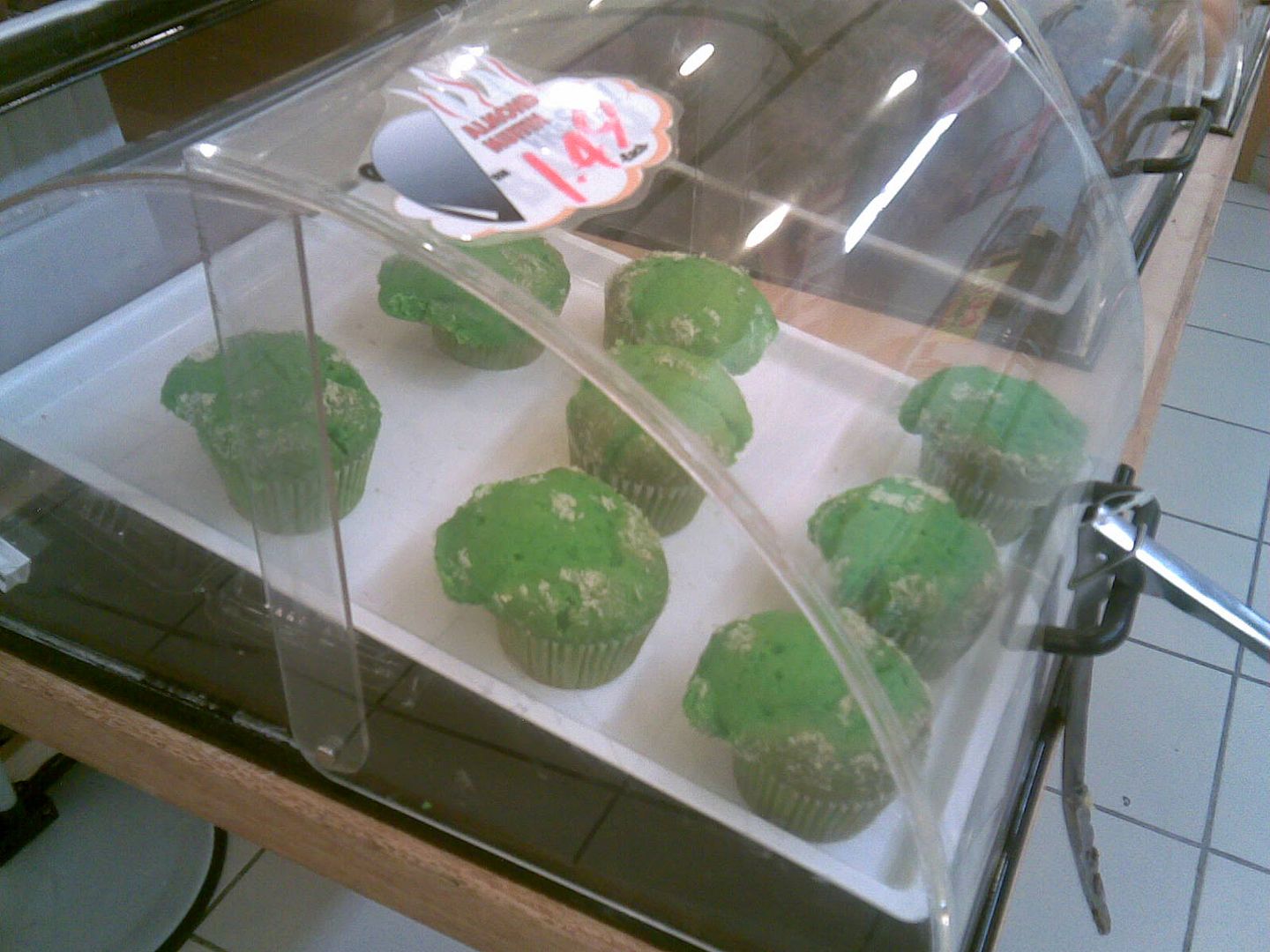 LOOK! Weird green muffins! Wanna try, anyone? Hehe.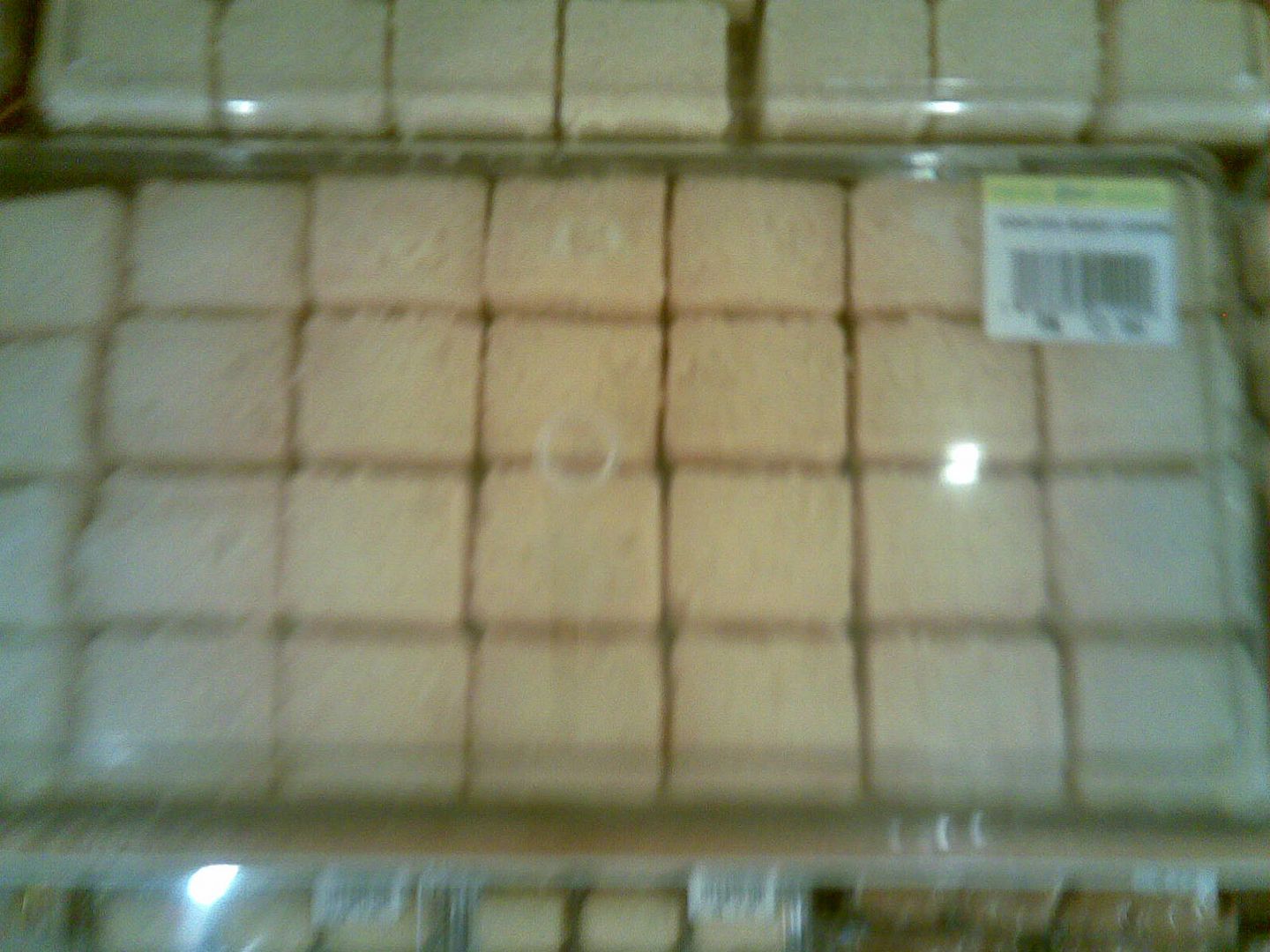 Pineapple tarts and god-knows-what-else tarts :)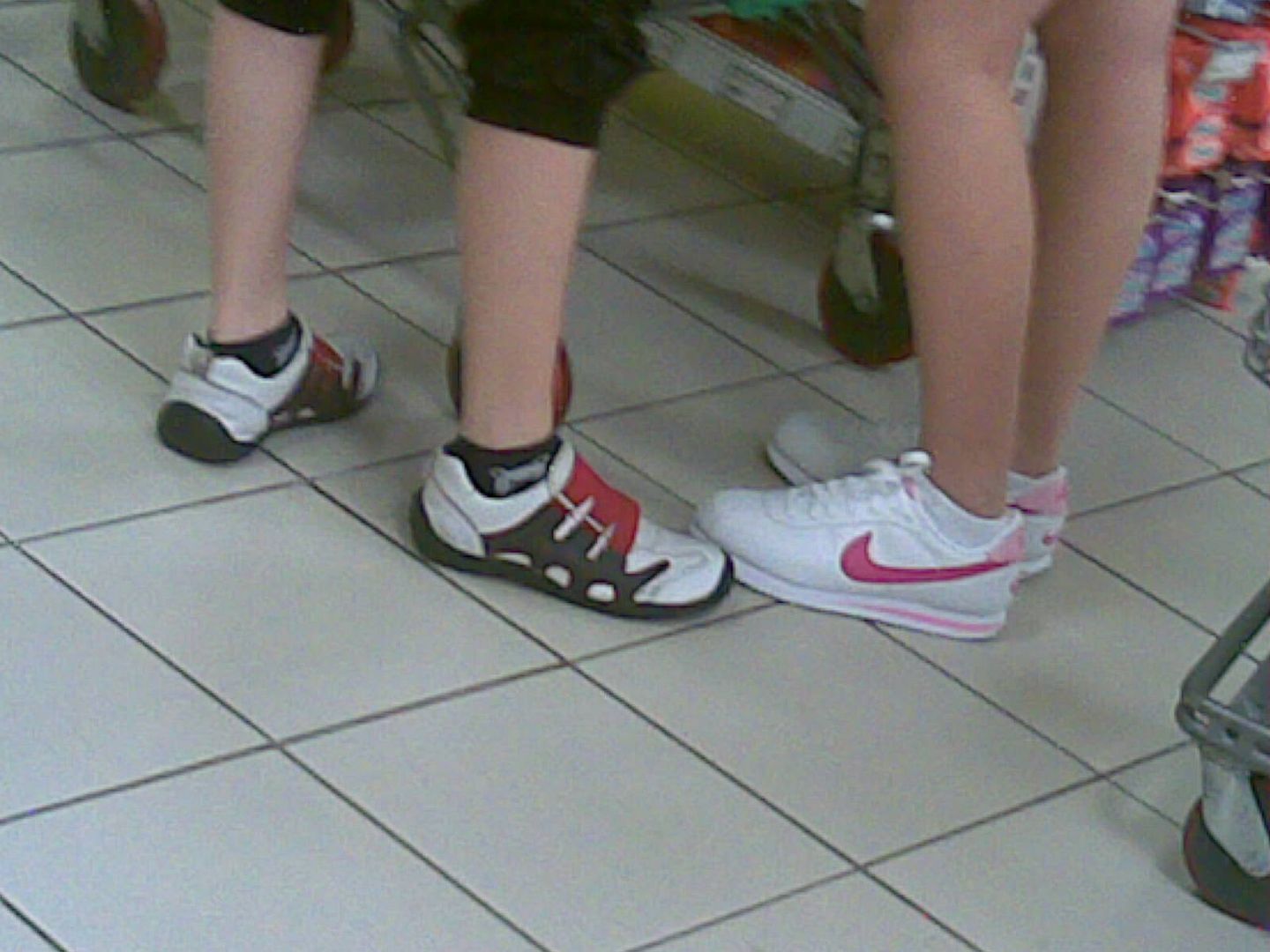 I want the shoes of the girl on the right!!! :( Nice ya? All i've got are sneakers now.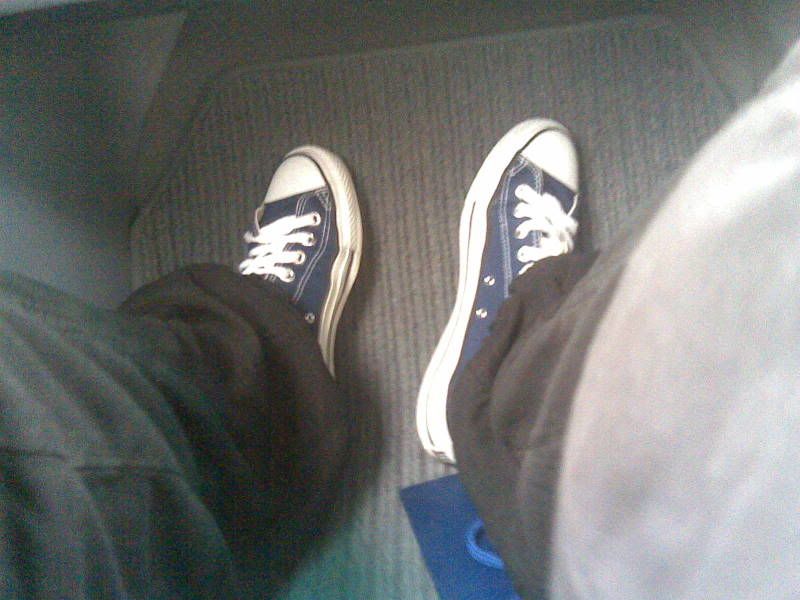 Dark blue Converse sneakers - cheap, trendy and comfortable. Only for RM95.00 ++ . Compare it to Nike and Adidas :)
F.Y.I .. my shoe size is 7 and a half or eight >_< . Kinda big for a girl. I can't fit into small stiletto pumps !! T_T .. Big-sized stiletto pumps are so so so ugly T_T.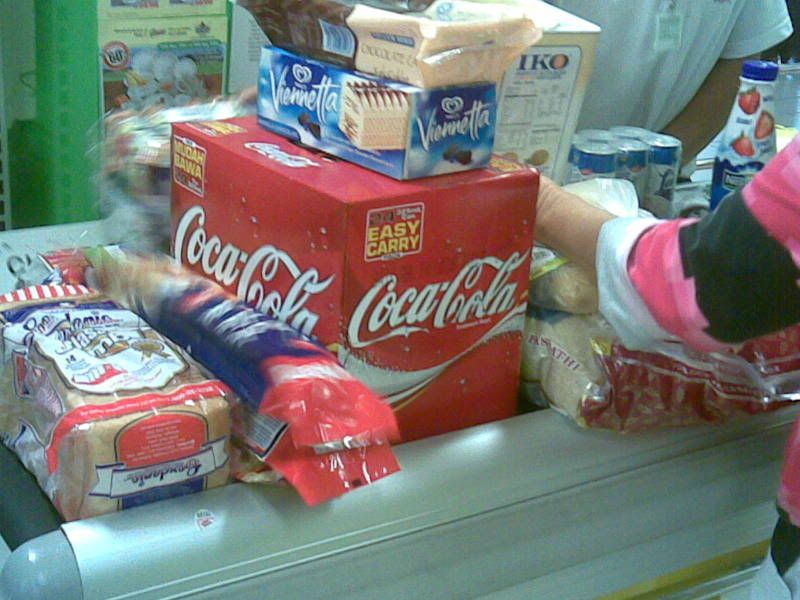 Look at the stuff we had on the counter!! That's only quarter of our shopping trolley.
*Spots the Dutch Lady iced coffee Belgian Chocolate flavour in the picture, remembers that it's in the fridge and runs down to get it *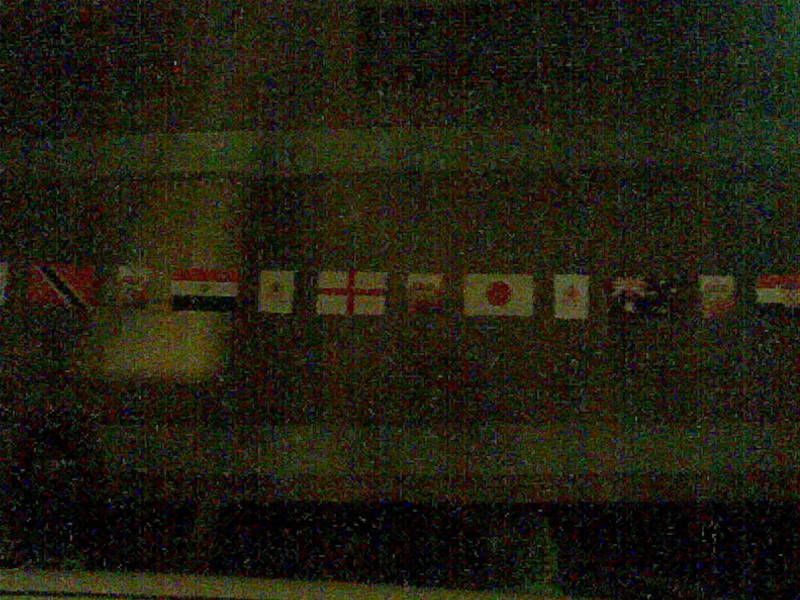 SPOT ENGLAND! SPOT ENGLAND! Snapped this when we were out of the parking lot and at a traffic light. 1 Utama had strung lots of flags from lampost to lamp post, in conjunction with the World Cup. There was even a super-fucking-huge projector screen, possibly the BIGGEST i've ever seen in my whole life. Just imagine. If I had one (it wouldn't even FIT in my house) , I could ogle Cristiano Ronaldo. Big sized!! XDXDXDXD.. Damn blur. Cos my phone no flash.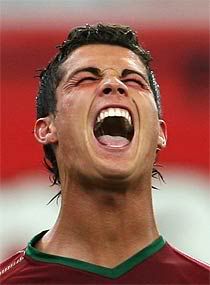 My baby's face when he scored the penalty against Iran. He knelt, clenched his fists, threw his head back and yelled with joy.
SO CUTE. :D
HAPPY FATHERS' DAY TO MY DAD, WHO'S BEEN THE BESTEST, STRONGEST, MOST HANDSOMEST DAD IN THE WHOLE WORLD!! I WOULD LIKE TO DEDICATE AN ESSAY FOR MY FATHER.I WROTE IT FOR MY MID YEAR EXAM AND MY BITCH OF A TEACHER GAVE ME 41. AND SHE SAID I WAS THE BEST ESSAY WRITER IN THE CLASS. AND OTHERS GOT 45. BITCH.I WILL MAKE YOU BOW AND KNEEL BEFORE ME.